As this year winds down, I seem to be winding up -- putting in more miles, feeling better after long runs, really getting into being a runner again. So, here is my motivational wish list for the coming year:
1: log 1000 miles (training runs and races combined)
This year, the first full year I've been tracking my runs, I'll end up coming in between 700 and 750 miles. With my plan to run fewer but longer races this year I think I'll be able to hit 1000.
2: complete at least 2 half marathons
Manhattan Half in January and the Brooklyn Half in May (or whenever they end up schdule ing it for, it's silly but I see so many people out on training runs with their nice Brooklyn Half t-shirts I think one of the reasons I want to do this race is because I want one of those shirts).
I might find another half marathon hit as a an excuse to travel somewhere interesting.
I registered for the Manhattan Half last week, let's hope there's not a snow storm the day before like there was for last year's race.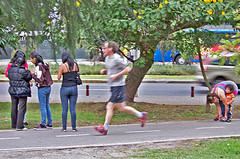 Running in Parque Carolina, 12,000 ft elevation: Quito Ecuador
3: hit 60% age grade percentage in a race longer than 3 miles
I managed to hit 64.6% in the 5th Ave Mile, but for longer races I'm stuck in the mid to high 50s. I got close on my 4mile PR in April with an age grade percentage of 59.6%. This year, I'm going to break that threshold. 60% is the line that defines what they call "local class" which is supposed to mean that you are good enough to place (be one of the first 3 finishers) in your age group at local races (but my local races are full of local, regional, national and world class runners).
4: run some smaller non-NYRR races
I love the races that the NYRR puts on, but as an organization they leave so much be desired. They have the worst communications staff and so little respect for the membership, I need to find other races to run in order to keep from giving them too much of my money and implied support.
5: finish top 10% for my age group in at least 1 race (and if possible place in my age group)
This goes hand in hand with the 60% age grade goal and the run races not in NYC run by NYRR. The races in the City are so full of world class runners that I don't stand a chance of seeing the front of the pack, but if I run a smaller race the odds are better.
I've registered for an 8k in April in New Brunswick NJ, based on last year's results I have a good chance of placing in my age group if I train for it and push myself.
6: finish the New York City Marathon in under 5.5 hours.
Yes, I know it's insane but I want to try. I finished Grete's Great Gallop (1/2 Marathon) in just under 2 hours, so in theory I should be able to complete a full marathon somewhere between 4 and 4.5 hours -- But, I want to make sure I set a realistic goal on this one.