History of the Guardian Newsweekly. (excerpted from Encyclopedia of the American Left)
The longest-lived and most prestigious of the postwar radical newspapers, the National Guardian (renamed the Guardian in 1967) was founded in 1948 by a triumvirate of James Aronson, Cedric Belfrage, and John McManus. The immediate objective was to provide a dissenting voice from the Cold War policies then being fixed in place by the government of the United States. A broader goal was to revive the most militant aspects of the New Deal.
The survival of the newspaper was mainly due to its professional quality. The Guardian staff was an amalgam of seasoned journalists and political activists. Aronson, for example, had worked for the New York Post, New York Herald-Tribune, and New York Times; and McManus had been past president of the Newspaper Guild of New York. Belfrage had an equally impressive background that included a stint in Hollywood writing for a wire service. Other Guardian staff members had worked for Esquire, the Brooklyn Eagle, PM, the New Republic, Time magazine, and other well known publications. The impressive corps of foreign correspondents included Agnes Smedley, Anna Louise Strong, and Wilfred Burchett.
In the 1960's many newcomers to the Guardian Staff felt the paper was out of touch with the temper and needs of the new era. The resulting debate led to Aronson and Belfrage resigning in April 1967, giving their ownership of the paper to the current staff.
The ensuing reorganization gave the staff working control of the production process and ownership shares.
The Guardian struggled to return to its traditional functions in the 1980s. It examined all existing socialist revolutions in a respectful but questioning manner, and it allowed significant editorial space for nonstaff movement activists to express their views, even when those views did not fit the Guardian's editorial perspective. The Aronson-Belfrage-McManus tradition was underscored in a big thirty-fifth anniversary issue.

On the fortieth anniversary of its founding, the Guardian could boast of a remarkable consistency. Unlike In These Times, the only other independent radical weekly with a national readership, the Guardian remained committed to radical alternatives to the two-party electoral system. Strong advocacy of the rights of women and sexual minorities had melded with its traditional support of civil rights, working-class, anti-war and national liberation movements.
Despite a temporary lift form the fortieth anniversary events, the Guardian continued to face crucial circulation and financial problems. In 1992, after over 42 years of weekly publication, the Guardian closed its doors.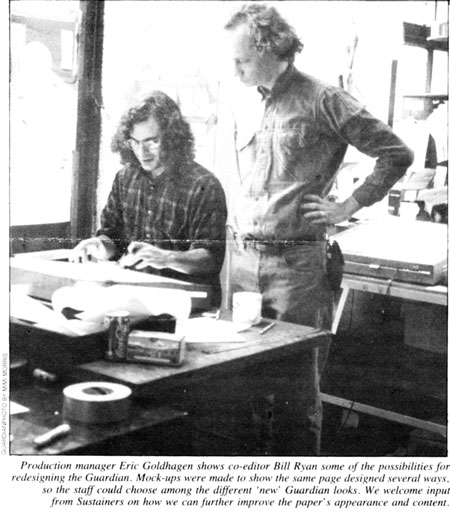 photo from 1989 Guardian Sustainer Newsletter